Full service to full D.I.Y websites and everything in between, get online!

They don't use phone books anymore
Getting your business onto the web is now the most important part of your advertising strategy. Your being left behind if you don't have a website.
Hairy Wombat Media has made that easy for you.

Choose a website and portal package
With website, community portal and hosting packages starting at $300 getting on the web has never been so affordable. There really is no excuse.
Affordable packages for all businesses.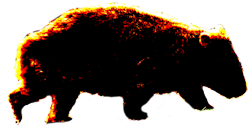 The Wombat is here for your website
With a Hairy Wombat website you get access to your website to make changes yourself. Plus access to all the help you need.
We are here to help your site grow.
What is included in your website package!
Every website designed and published by Hairy Wombat Media has included
Fast Australian based website hosting
24/7 website security and weekly website back up
Membership to this website where you will find loads of information on how to run, update and grow your website.
A free ad and promotion on the Australian Community Network community portals
Monthly 'Your website' newsletter with tips, explanations and tricks of the online world.
Find a website package that suits your business            Previous websites                          Contact Us
Business Website Design Melbourne
No matter what business your in, the website design team at Hairy Wombat Media, know you have to be on the web. But the costs involved with website design can be prohibitive to most businesses.
That's why the team at Hairy Wombat Media has worked hard to reign in the costs involved with website design and hosting to give you an affordable way to get your business on the net. We are all Australian and we don't sub contract our work to any overseas companies so you will always have access to the people who run your website!
Websites come in many different types but the only thing that's really important for you is will you be found? Will your website work on all platforms (P.C-Tablet-Phone) and will it look the way you want it to look? Hairy Wombat Media will work with you to make sure you will get what you want and what you pay for, with no surprises. We will host your website on our fast Australian based servers.
We can show you how to look after and make changes to your own website after construction. Give you piece of mind knowing that your website is being looked after and working for your business.
What do I get with a Hairy Wombat Media website
We design your website to what you want, premium affordable website hosting, full access to your website, Email accounts, website updates, website security, regular website backups, forms, backlink campaigns for SEO, website login to make changes yourself (if you want to) in fact anything that your website needs to succeed for your business.
What is included in my website design package
1.Websites include 1 years hosting (After 1st year hosting is from $10 p/m or $120 p/y plus g.s.t)
2.Up to 10 Email accounts included (Extra Emails accounts charged at $2 p/m in blocks of 5)
3.Website security and weekly back up of site
4.Option of having us update website for you
5.Full access to make changes or add content yourself
The Wombat can make having a website easy and affordable
talk to us for a no obligation appraisal